We know that the consequences of poor inventory management can impact any FnB business negatively, resulting in overstocking, un-tracked wastage, inability to monitor trends and reduced profit margins. Therefore, it's important to have access to management tools which are able to assist teams with their stock processes, rather than limit them.
Across three key areas, order, manage and analyse, teams have access to a range of intelligent functionalities which enable them to streamline their stock processes.
---
Order
EDI
Purchase Invoicing
Par & Consumption Level Ordering
Standing Order Templates
Supplier Management
Central Processing Unit
Site Transfers & Locations
Manage
Recipe Engineering
Menu Modelling
Wastage & Line Checks
Allergen & Nutritional Profiling
Batch & Template Recipes
Barcode Stock Taking
User Security Controls
Analyse
Live Activity Dashboards
Stock Smartphone App
Stock Taking/Stock Period
Audit Log
Automated Reporting
Finance Integrations
Release Notes Updates
Dashboard Insights
Track and monitor stock in real time across your site or group wide estate, with live updates on deliveries, stock values, purchase liability and purchase approvals. Our three comprehensive dashboards include Inventory, Stock Period and Company, enabling teams to gain full transparency and have full control across all inventory movements in the business. Stock insight dashboards are also key to ensuring all of your administration tasks are up to date such as unconfigured ingredients and recipes, enabling you to streamline your inventory management.
Recipe Engineering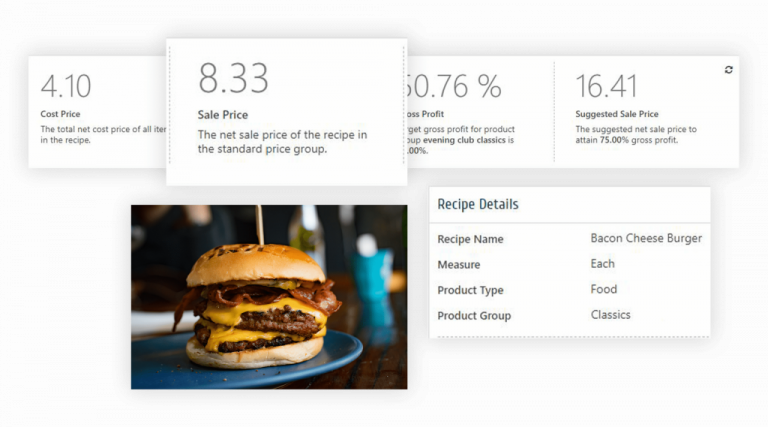 Have full control over your dish costs with intuitive menu modelling and recipe engineering tools. Recipe Engineering is in place to ensure that your products in the system are accurately created, containing ever ingredients including the cost price and the amount used in a recipe.
This enables teams to accurately track exactly what is being used and wasted. With this information, users are presented with a cost price per recipe, the sales price in the POS, the gross profit made and even a suggest sales price based on the target GP set.
Alongside this, other details can be added into your recipes including preparation method notes, equipment to use and even guidance imagery for presentation standards.
Electronic Supplier Management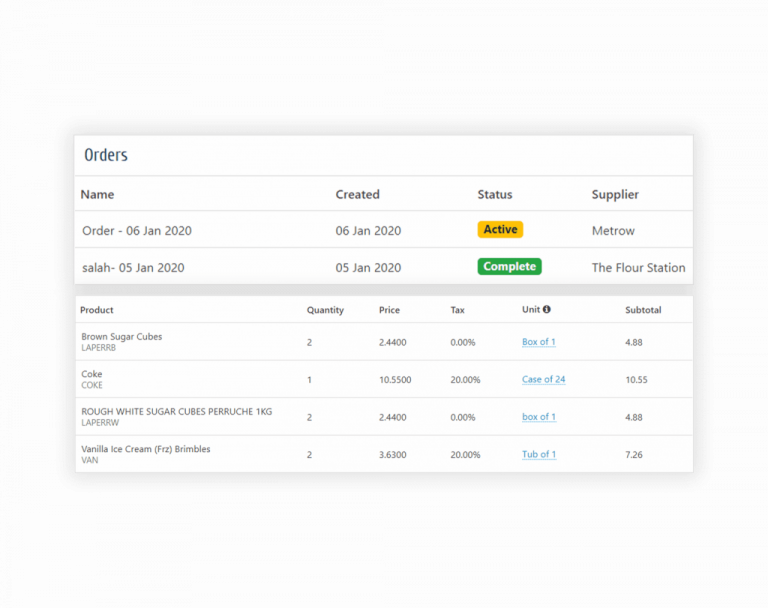 Automate your procurement process by introducing an EDI solution that provides a single point of control, from raising an invoice to receiving electronic invoices, whilst seamlessly integrating with your chosen accountancy platform. This unique supplier purchase process helps users to gain insight into supplier stock holdings and eliminates supplier paperwork, helping to reduce manual administration and reduces costs of goods and accounts payable overheads.
Nutritional & Allergen Profiling
All nutritional and allergen profiling is documented against every recipe, including nutritional values such as calories, sugar and saturated fats, alongside allergen information on nuts, dairy and more. This can even be printed off from the Point of Sale in seconds and given to your guests in seconds should they have any queries.
TevStock
For those who wish to manage their stock processes at the touch of a button, TevStock is the answer. This intuitive smartphone application has been designed to put efficiency and accuracy at the very forefront of operator's stock processes
Complete all outstanding purchase orders
Create and complete stock transfers between sites/locations
Perform stock takes with the ability to save part way for completion at a later date
Bar code scanning, returning results of stock level differences between expected and actual count
Integrated with the Stock Management module for full transparency