With your competitors only a click away, customer loyalty has become more important than ever for the growing hospitality industry. Not only do repeat customers account for an on-going stream of revenue, but through positive experiences, your regulars provide increased business support through word of mouth marketing. Maintain customer retention by recognising your most loyal customers and giving back, with rewards.
Whether it's collating a strategic marketing strategy using detailed insights, or the creation of a tailored loyalty scheme, the Tevalis Customer Relationship Management (CRM) module has been designed for operators who want to effectively target their guests.
---
Customer Insight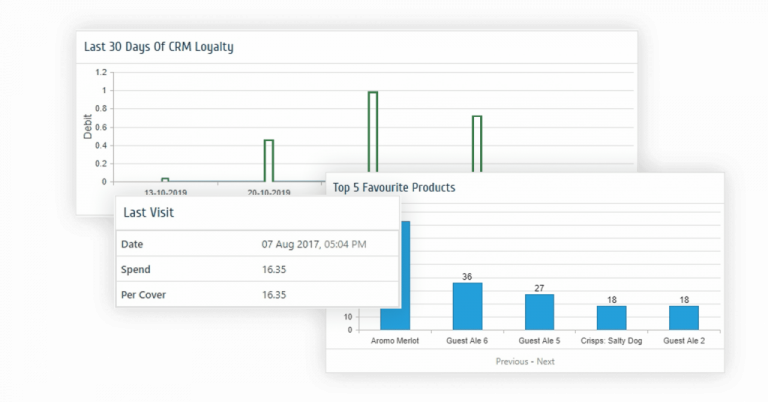 Understand your customers and their spending behaviours in detail including their account type, their contact details, what their most purchased item is, what their most commonly visited session is and much more.
From this insight, marketing teams are able to import key data into their chosen email marketing platform to create targeted email campaigns. For example, target old customers whos favourite cocktail was a mojito, with a specific offer to entice them back in.
Account Management
Within the accounts and maintenance area, operators are able to easily add and edit account levels. This involves setting a threshold ultiplier to work out how many points would be given per spend, redemption value and any bonus points.
Promotions
Set up a variety of pre-set promotions in your Tevalis system to ensure that your guests are offered rewards for special occasions such as birthdays or even a simple welcome message once that user has been assigned a loyalty card.
Vouchers
Who doesn't enjoy receiving gift vouchers on their birthday to dine out or enjoy a spa trip away? Introducing gift vouchers into your business will offer your already loyal customers, the option to gift an experience to their loved ones. Tevalis integrate with leaders in voucher management platforms, enabling businesses to experience a best of breed, consolidated platform which provides maximum benefits.