The point of sale is the primary hub for sales, inventory, analytics and many other operational factors for teams across the hospitality industry. However, not all businesses are experiencing key benefits from their technology system and instead, it becomes bottom of their priority list.
If you find yourself ignoring your point of sale suite and believe that it serves little purpose within the business, then it may be worth looking for a more effective technology investment.
Here are six signs that you may be due an upgrade…
1. It's not helping your business to increase revenue
EPOS is more than a data entry platform. The tools available provide many benefits and should help to increase sales and revenue. Starting with a must-have Enterprise management tool,
Business Analytics
.
Through a wide range of reports across all areas, teams can use this module to gain access to key business data in minutes. Useful reports include bottom sellers, top sellers, wastage at ingredient level, which restaurants across the estate are more profitable and across which product groups, which suppliers save the business the most money and which sessions during the day are most successful in relation to covers and sales. The granular detail available provides management and head office with the ability to understand operational activity and performance, but above all, offers actionable insights.
Additional On-Premise solutions are also a move in the right direction when it comes to increasing revenue by increasing the sales per cover. Taking orders at the table using Handheld Ordering technology means that servers receive pre-programmed pop ups on potential up-selling opportunities. Alongside this, orders are taken and processed straight from the device, resulting in faster service and from anywhere in the venue.
Similarly, digital ordering menu platforms such as TevMenu, provide customers with full control over their ordering experience which statistically, positively impacts spending behaviours. In some cases, restaurants can actually expect to experience 30% more per order when their customers use a self-service solution such as this.
2. You're spending too much time at the point of sale
If your front of house team find using the point of sale increasingly frustrating during service, then it's time to explore exactly why that is.
Slow point of sale software with long data entry journeys, are often the main culprit. Servers already spend a lot of time on data entry throughout their shift including waiting for a free station behind another server. Therefore, an EPOS system which doesn't include time saving features or simply cannot handle complex orders, can have a negative impact on the speed of service.
Customer experience is at the forefront of any restaurant and bar, so minimising time spent at the POS is critical. Here's a few features which can do exactly that…
Having a clear, graphical table management area is critical for teams who want to quickly understand what stage their tables are at without having to re-open them.
The functionality available with the Tevalis Table Management view, includes colour status features, the ability to switch between different floor plans (for different floors/areas) in seconds and quick table tools to perform key actions such as print bill, finalise bill, view last activity and open table.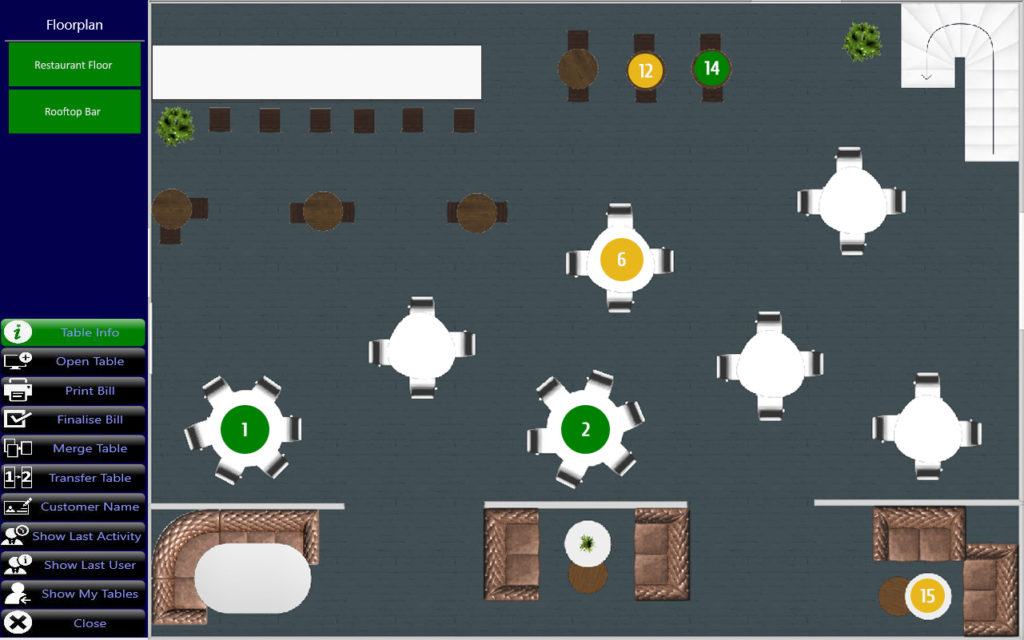 Do you have promotional offers active across products within certain time frames?
We've all forgotten to put through an offer during a busy shift, adding the individual items onto the table instead of selecting the specific offer button.
Does your existing process look something like this?
Customer notices on their receipt that they haven't received the offer that they're eligible for.
Server then has to re-open the table at the POS and void the individual items.
They then put through the accurate offer, adding an 'IGNORE' message underneath to prevent the order being made by the bar or kitchen team.
The new receipt with the accurate offer and total amount, is then printed and given back to the customer.
If the answer is yes, then your system is adding unnecessary time to a very simple process.
Rather than searching for that specific offer button every time, simply set up automated promotions. For example, if you have an offer active on Wednesdays from 6pm – 9pm on 2 for 1 cocktails and your team put through multiple cocktails within that time frame, your Tevalis EPOS will know to automatically collate them together within the promotional price band.
Splitting bills can be a timely process, especially when larger party tables are present.
However, with the Tevalis Split Bill feature, users can create new bills with ease, dragging and dropping items accordingly at the end of their visit.
Alongside this, products such as bottles of wine can also be split across the bills at the touch of a button with the Go Dutch function, ensuring individuals are splitting the cost for shared items if requested.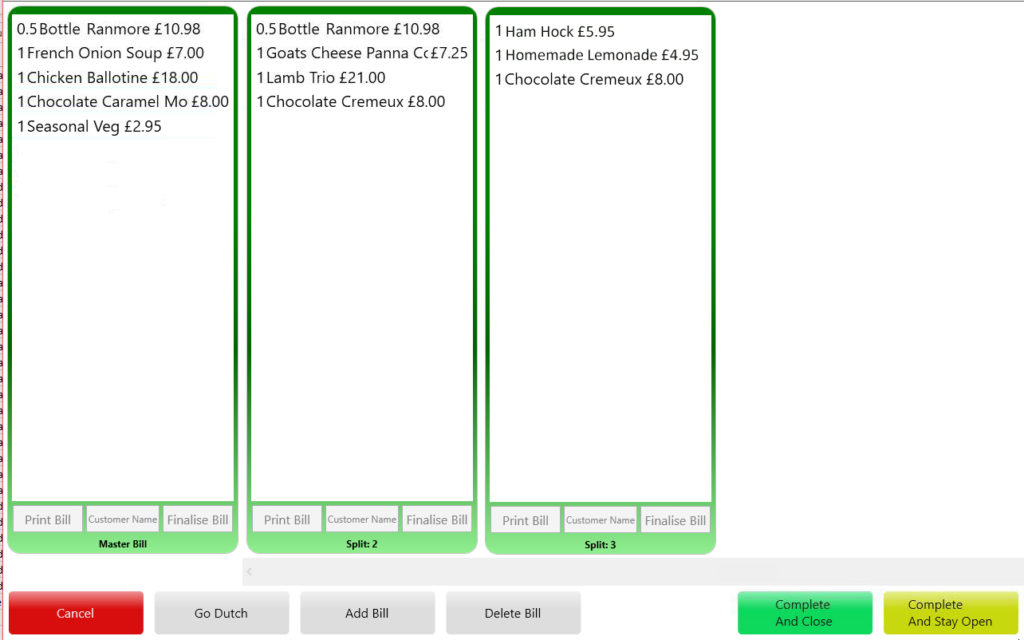 3. Your provider isn't keeping you up to date
Technology functionalities aside, are you receiving communication from your provider on the latest hardware, newly released software platforms or the variety of integrations available?
Technology continues to rapidly evolve and with the hospitality industry becoming more competitive by the day, operators are opening their businesses up to further tech usage and the innovations which continue to appear on the market. Therefore, it's important to be informed and educated on the latest solutions and updates.
If your existing software partner isn't doing that, then you may be missing the opportunity to gain some extremely valuable benefits. This may also be a sign that they're not continuing to develop their product set alongside the industry, which in the future may become a barrier when your technology requirements do grow and that provider can no longer offer what your business needs.
4. The integration suite is limited
With connected technology in place, businesses have the advantage of utilising best of breed platforms in conjunction with one another. In return, offering benefits such as increased efficiencies, enhanced transparency and reduced administration time.
Whether your business requires an extensive suite of integrations or only one for payment services, it's important to consider that your requirements may change in the years to come.
If your EPOS provider has a limited integration suite (or doesn't have the capacity to integrate at all) across areas such as payment services, finance and accounting, reservation, staff management, customer loyalty and more, then you may not be receiving a system which can offer you the functionality and longevity needed. Another key sign that it may be time to review your technology provider…
5. Making changes to your EPOS is too complex (or maybe, not advanced enough)
All FnB operators require the ability to make changes to the EPOS throughout the year, which may include adding new product buttons, adding new employees, new specials menus or making aesthetic changes such as adapting floor-plans.
With long, busy shifts, making system changes often needs to be quick and simple. If you're spending too much time producing emails to send out to all General Managers at each site with instructions for system changes, or you are spending a considerable amount of time on-site creating new product buttons or adjusting the floor-plan, then you are not using platforms which are best suited for this fast paced industry.
Having access to all systems remotely is the best option for teams who want to make specific changes across all sites, away from site and in advance.
A cloud based Centralised Management solution, is all you need to gain full branch level systems control over all sites.
The packages feature in particular, provides users with the power to make system changes and activate them live across selected venues, for a set date. This also includes aesthetic changes to the system in a simple drag and drop EPOS Designer view (also accessible on the Point of Sale on site).
A time saving management tool which helps teams to enhance efficiency and consistency across their entire estate.
6. Lack of additional services and support
EPOS investment should not feel like a one off purchase, nor should that be what you seek. Point of Sale technology is one of the most important purchasing decisions a business owner can make today, so ensure that your selected provider is offering you with a technology partnership before, during and after deployment. This will ensure that you always have a system which meets your full requirements both now and in the future, with adaptability, innovation and longevity at the centre.
The on-going services available to your business and the team, are a critical part of that.
If the following services are not available to you, that may be a key indicator that your business is not receiving the most valuable technology package.
24 hour support services
Additional on-site and online training services
The option to request bespoke developments
Ability to book additional demonstrations for other solutions you may be interested in
With technology continuing to rapidly evolve, it can sometimes be difficult to keep track of what's available on the market and what benefits you should be experiencing from your system.
However, if you have found yourself experiencing any of the above points, then it may be time to embrace change. The good news is, there are flexible systems out there such as Tevalis, which can offer you and your business exactly what you and your business need for the long haul.
Want to explore what the Tevalis Technology Ecosystem can offer? Let's begin the conversation.