Tapas & Technology, How Does It Work? | Case Study – Ambiente Tapas4th July 2017, by Samantha WellerIn Spain, tapas is served day in, day out to keep diners fuelled throughout the evening. Starting out as snacks and appetizers, tapas has evolved into its own sophisticated cuisine over the more recent years. At Tevalis, we've been providing our solutions to the hospitality industry for over 12 years where we've watched the tapas revolution develop to where it has now, becoming a favourite in the UK.
One restaurant which focuses on a tapas style theme throughout is Ambiente Tapas. Located in Hull, Leeds and two sites in York, the restaurants serve gourmet style tapas with a menu influenced by tastes from all around the world. The success of the independent restaurants has enabled them to expand. With this, their newest venue is in the popular Humber Street in the city of culture, Hull, which showcases a quirky space for all types of diners to enjoy.
At Tevalis, we know that there are distinct types of service and dining for customers to experience, therefore it's always essential for us to completely understand the owner's requirements and expectations for their venue and how it operates. This way, we can implement a system that's the perfect fit for their business and offers them the exact functionalities they need.
Owners at Ambiente Tapas wanted to maintain the traditional tapas service style with their small dishes going out to customers every couple of minutes rather than all together. To ensure that this type of service was efficient and practical for both the customer and the restaurant teams, we developed a feature that was tapas style specific. So, what function did we develop and how exactly does it benefit service?
During busy hours, it's understandable that servers can forget to return to a till to manually add an item that was requested to come out later than others. We know that there are ways around it such as kitchen messages with 'send 5 minutes after' noted under specific items. However, through working in the hospitality industry ourselves and listening closely to our clients, we know that this is not always the most clear or efficient way to manage orders. Therefore, taking this and the tapas style into consideration, we created a function specifically to increase efficiency and ease of ordering.
Due to client consultation with Ambiente Tapas and having an experienced team of developers at our head office, we were able to create a hold item/hold order function which allows servers to attach a timer to individual items on an order. This means the team can input the entire order without having to revisit the till or discuss any unclear messages with the kitchen team. From the Pos, using the function is as easy as:
Select the product and then the 'hold by time' button.

Once a time has been inputted, a small timer icon will appear next to the item.

The timers will then count down and send to the kitchen once they have expired. The team will then know to start cooking to ensure time requirements are met.
With dishes being served a few at a time, this feature was the ideal solution for the team at Ambiente. Now, all orders that go through can be accurately timed which is both beneficial for the restaurant team and their visitors.
Not only did we offer the development expertise to create specific features within the Pos software, but we also provided comprehensive business tools which directly sync with the Pos.
Rob Scott-South, Co-Owner of Ambiente Tapas says:
"Currently I use Centralised Manager and Stock the most. Having four sites, Centralised Manager really helps cut down on the admin I had before when I physically needed to be in the restaurant to make any changes, whilst the stock module gives me easy access to consumption trends which allows for more accurate ordering and menu design."
Within the Centralised Management module, Ambiente Tapas have access to full branch level systems control over each site from one location. Owner Rob Scott-South makes full use of the 'packages' feature in particular.
This function allows management or head office to implement changes across their site/s, with all new items and amendments. Users can then set these menu changes to become live on the Pos at a certain date and time. For even easier management, they can even change and add to the current buttons on the various tills around each site, which will also be implemented onto each Pos once the active date has been set.
As Ambiente Tapas have one core menu circulating across all sites, head office finds this useful for executing seasonal/special menus or even just their general restaurant menu changes that need to be applied from time to time. This enables an accurate update on all systems without operators having to visit each site singularly.
Alongside this, the Stock Management module has also been an advantageous tool for those at head office. We developed the solution with operators in mind to ensure that they receive an intuitive and powerful system with full functionality. The popular cloud based module offers full transparency where item costs, variance and wastage are concerned and in result, helping to deliver better bottom line profits.
The team at Ambiente use the tool primarily to view consumption trends, which in return enables them to tailor their menu more accurately for the future.
The seamless link between Tevalis Epos and our Stock Control module enables them to do this as all Epos sales data is automatically uploaded from the till and into our Enterprise Stock Control module. This means operators have full access to an advanced platform where they can analyse and manage their stock accurately with functions which allow them to organise their stock periods, stock levels, suppliers, deliveries and stock movements.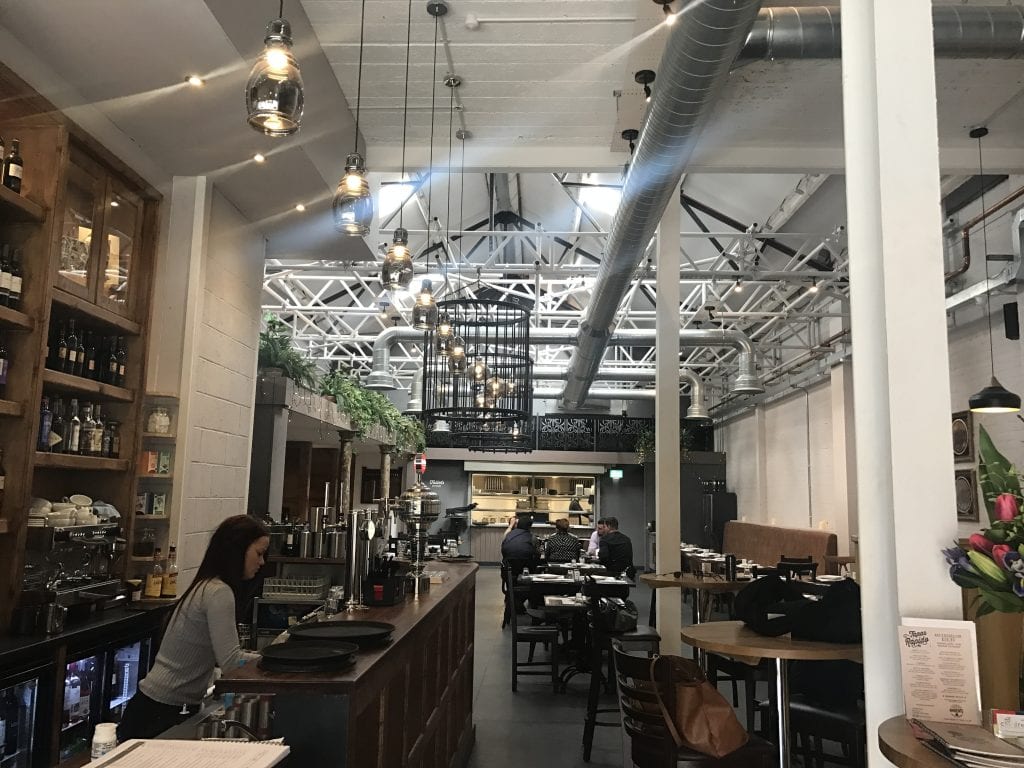 Alongside Stock Management and Centralised Management, owners at Ambiente also wanted to ensure they could gain an insight as to how the business was performing across various areas.
Our comprehensive Reporting Module is in place to do just that. From the Pos, our tools absorb a mass of business data every 15 minutes, which is extracted to deliver insights into specific areas such as Sales, Service, Security and Cash. All reports can then be exported to the file format of choice, such as Excel, so they can either be saved or sent on to others. However, our automated reports feature makes sending reports even more simple as the feature enables operators to select a report, the email address it's going to and the time and date. From here onwards, the tool will generate the up-to-date report and forward it automatically to the recipient.
With over 100 individual report offerings, head office now have a strong understanding of what's happening at each of the sites, where they analyse trends such as products that are selling better than others. With full access to this mass amount of data, the decision makers within Ambiente have the advantage of reviewing the information and then making core business decisions to enhance their operations moving forward.
This module not only reduces admin time but also encourages more effective management. With an easy viewing dashboard and hundreds of detailed report offerings, analysing business growth and performance has now never been so easy.
Another aspect that busy venues often need to consider is their booking system. We've seen first-hand how thriving venues benefit from a sophisticated booking system that integrates with the Pos, which is why Ambiente decided to proceed with our integration to ResDiary.
With ResDiary, a widget is added to the website where visitors can then easily book their table online, only showing what slots are available to avoid double bookings and disappointment. However, what makes this integration of ours so attractive to our client base, is how it works directly with the Pos by syncing the data. When a booking takes place from the website, all of the information is then updated in the booking feature on the till, where operators can then view all of the details. Information is always up to date when using our integration with ResDiary so when changes are made to a booking by the visitor, the Pos is also updated and reflects those updates.
Overall, the Ambiente Tapas sites now have a complete solution which is tailored to their business. With Tevalis, they have specific function and feature development on the Pos and in result they now have a bespoke system that will provide them with longevity and adaptability should they need it. With full use of three core cloud based Enterprise tools, they are also equipped with the right tools to manage their business operations more effectively.
We're very confident that the independent restaurants will continue to grow and as they do, we'll be proud to support them as their technology partner, offering them the support and expertise needed to meet their future requirements.15″ Touchscreen TillsCentralised Management
Stock Management
Business Reporting